Michael Ballack didn't pick sides with his compatriot as the battle between Red Devils boss Jose Mourinho and Bastian Schweinsteiger continues. The former Bayern Munich and Chelsea star said that the former German captain deserved better but added that he also understood Mourinho's stance as well.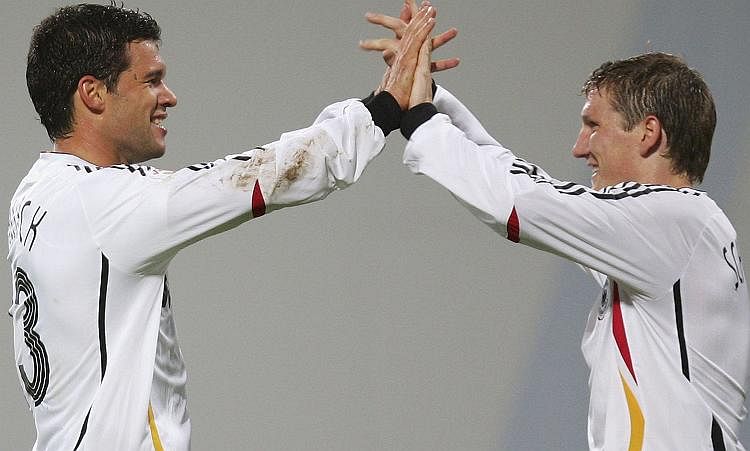 "Jose Mourinho always spoke really high of Bastian, he really respected him as a person and a player, but as a coach you have to make decision. He made his decision and of course it's hard for Bastian to accept because he's a great player with a fantastic history for himself and a nice person," Ballack told talkSPORT.
Schweinsteiger joined United under former United coach Louis van Gaal from Bayern Munich. However, the Portuguese tactician has deemed the player surplus to requirement since taking over. Mourinho tried selling the player during the summer break but schweinsteiger refused, insisting on staying to fight for a shirt at Old Trafford and it angered Mourinho who spent a lot to bring in more star players.
It turned into a bit of a game of poker, with neither of the two willing to back down, or show any sign of weakness, with both pretending to have the best hand. Unfortunately, whilst Schweinsteiger might consider it a personal victory that he stayed, and continues to pick up all those wages, his career has hit a bit of an impasse as Mourinho blocks him from getting a game - maybe Bastian should have stuck to playing poker instead of trying his luck against one of the most stubborn coaches in modern world football!
Mourinho has since banished the World Cup winner to the reserves, drawing condemnation from several quarters. Schweinsteiger was left off the club's official photo shoot despite his 'star' status as a player. Ballack wasn't happy with the treatment of the recently retired German player but he refused to vehemently take a stand against Mourinho.
They respect each other, but he's the boss and has to make decisions like that. I hope for Bastian that he finds his place in that team. If not, hopefully he makes a quick decision over his future because he deserves a better end to his career than being on the bench," Ballack added. Man United seem to have managed the absence of the player fairly well due to the depth on the bench.
---